eBay is a constantly changing ecosystem and the top sellers seem to be the first ones to adapt to new changes. It can be a full time job implementing new eBay recommendations. Promotions, seller standards, listing variation, and other updates seem to arrive often.  So if you run an e-commerce business, here is a list of eBay blogs and newsletters to help you stay on top of the markets.
1. Ecommerce Bytes
AuctionBytes launched in 1999. In 2011, they changed their name to EcommerceBytes.com to reflect the broadening scope of their coverage. They are a leading publisher and number one source of news for e-commerce and online merchants. EcommerceBytes publishers David and Ina Steiner are frequently quoted by major news organizations. Publications such as the Wall Street Journal, the New York Times, Smart Money Magazine, and Fortune Small Business use them as a reference for their news about e-commerce.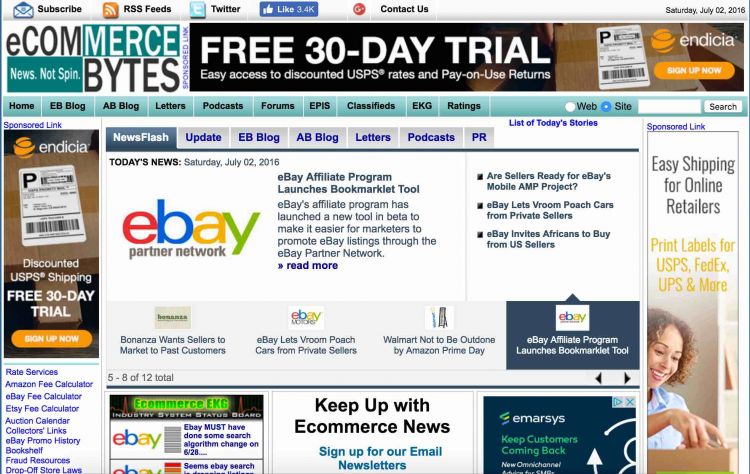 2. Andrew Minalto
Andrew is a serial online entrepreneur, best-selling author, business coach & mentor at andrewminalto.com.
Since age of 18, Andrew has been addicted to online business ideas. Currently he owns several eBay shops, eCommerce Shops, trademarks, websites and video courses. eBay was his first selling platform and he maxed it out to full potential! He invested his eBay profits in to other websites and business projects to help share his knowledge with his readers.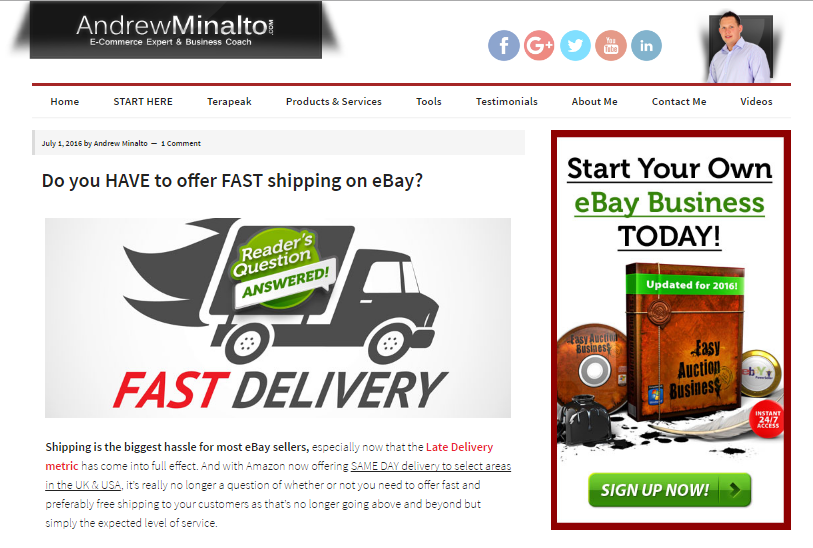 3. Suzanne Wells: eBay Selling Coach
Suzanne Wells is a womens used clothing retailer on eBay. This eBay blog is more for the thrift store or garage sale eBay seller. She has many good tips on how to sell your used goods at a good price for both you and your customers.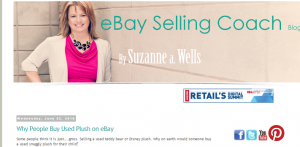 4. Skip Mcgrath: Online Seller's Resource
Skip McGrath went from eBay newbie to an expert Power Seller in a matter of months! By reading about eBay e-commerce and selling antiques, he quickly became successful online at a startling pace. His many books and blogs can not only be full of surprising information but can also be the key to helping you unlock your success! He can be reached at skipmcgrath.com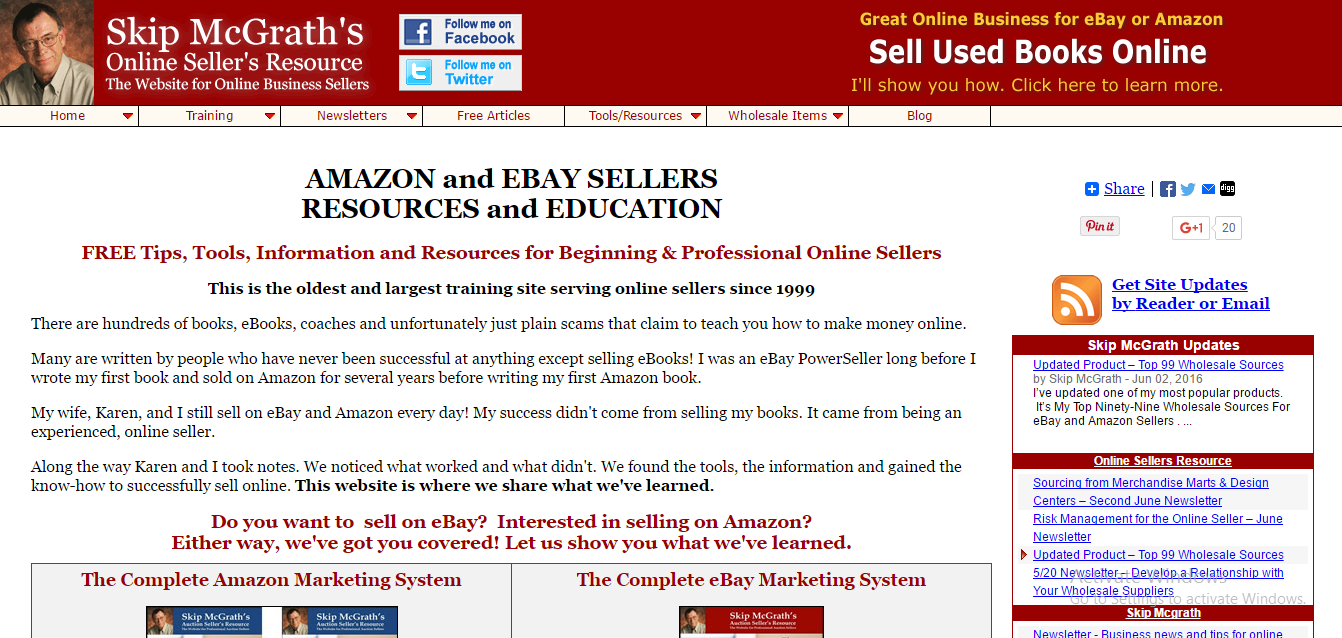 5. eBay Ink
eBay Ink is created by eBay for eBay users. Straight from the horses mouth, these articles are tips from one seller to another. You cant get anymore authentic than that!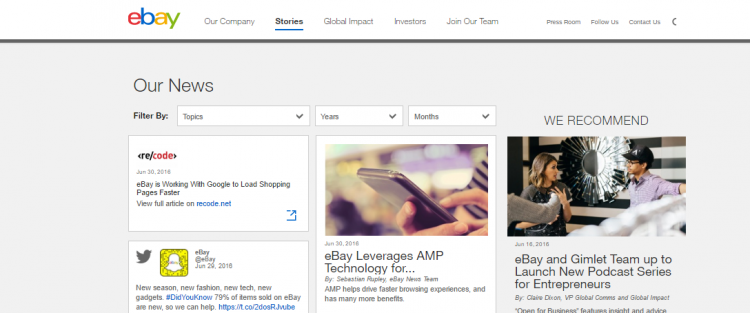 6. Tamebay
Dan Wilson is the co-editor of "Tamebay" and the author of "Make Serious Money" on eBay UK. He also wrote "Amazon and Beyond" which is a bestselling guide to selling on eBay.
Dan was part of the team that founded "eBay in the UK" back in 1999. At that time, he suggested to Sue and Chris that they should start a blog. Tamebay was the result. Dan became a behind-the-scenes advisor and contributor from 2006 -2011 before coming on board as a  co-editor (after Sue's unfortunate passing).
Chris is the co-founder and editor of Tamebay. Before Tamebay, he was a full time eBay seller for eight years .
Living in Thatcham, Berkshire, Chris was a prolific poster on the eBay PowerSeller board and regularly attended eBay Universities and eBay live events. He noticed a lack of general information and help in the eBay world. He had aspirations to create a site to "Tame eBay", bought a domain name, and began the journey.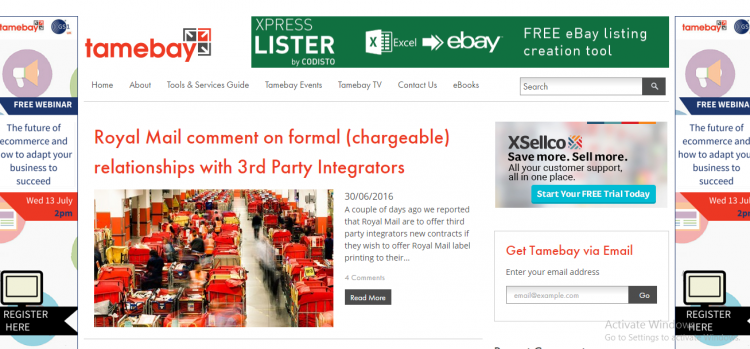 7. Rival Ripper: Competition Crushing Tips for eBay Sellers
The Rival Ripper blog was born out of need to spread the word about a service that Kyle Anderson and Yuan Huynh (that's me!) had built for themselves to help manage their eBay accounts. If you are not familiar with the back story, here it is….
Yuan Huynh (pronounced Yawn) is an eBay power seller for RcBearings.com (SOLD 2016).  He has imported, sold, and shipped thousands of products all over the world. He is a relentless acquirer of knowledge,  jack of all trades, and a serial entrepreneur. He is currently the co-founder and CEO of RivalRipper.com, an eBay listing management and pricing tool for power sellers.
Kyle Anderson a.k.a. "Kyle From Ohio" has been designing, building, marketing, and managing websites and web applications for 14+ years. He has worked for the largest domain name registrar in the world, Godaddy.com. He has worked for a multi-million dollar SEO firm that, at it's peak, hosted over 8000 websites. He has also worked for McMurry/TMG (now Manifest), one of the largest content marketing and digital agency firms in the world. There, he was responsible for managing the systems that housed over 600+ websites that included major Fortune 500 companies. He met Yuan in 2014 to help scale the platform and quickly became a Power Seller on eBay himself. He likes beer festivals, electronic music, and zombie movies. He is currently the co-founder and Chief Technical Officer of RivalRipper.com, an eBay listing management tool for power sellers.

Summary of eBay Blogs
If you want to set yourself apart from your competition, you should become an expert in your field. Being an expert in your chosen field is no longer optional. Competition keeps getting tougher and the systems in place keep getting more technical. The pace at which things change is increasing exponentially. Let the others in the market do the research for you.  Read their blogs once or twice per week like a newspaper and stay up to date on all the latest tricks of the trade.
Try our Easy eBay Template Builder
We have some amazing eBay Tools for you INSIDE.
"For our new friends, Rival Ripper is an eBay listing management platform that combines template building, message tracking, order management, and pricing all into one powerful tool. To learn more about Rival Ripper and get insider access, sign up for our 100% free newsletter."

Yuan Huynh
CEO & Co-Founder of RivalRipper.com
We value privacy. No spam. No worries.