We all know that selling goods on eBay is not as easy as 1-2-3. You will come across many challenges before you can even make a single sale. One of the challenges that any eBay seller will come across is building a nice looking template for your listings.
Could you use some help with your templates?
Over 180 million people use eBay. Many of them are selling similar products to you and are even selling them cheaper than you. Price isn't everything. eBay does not rank your item based solely on price. We wrote an entire article on eBay's algorithm. The real factors including staying power. In other words, how long does a buyer look at your page? This tells eBay that your listing is engaging. That it is interesting. The best way to make your listing engaging is by make it look good. Fix dull, unattractive listings and upgrade them with a new template design.
To maintain top rankings on eBay for your listings, you need the best looking templates you can find. You need a set of templates with a great set of fonts, font sizes, and color schemes. A good template will make your dirty listing shine.
With the use of of a great template, sellers do not have to bother with tweaking confusing HTML code. Instead, they can sit back, relax and wait for customers to place orders as the templates do the selling.
Here is a list of credible websites where you can get your own eBay listing templates. Start redesigning your listings from these suggestions.
1. We Are Phoenix Team eBay Templates
The We Are Phoenix Team website allows eBay sellers to create their own free eBay listing templates. It is possible through the website's online template generator.
Users may choose their preferred color scheme first before filling out other important details. The listing's images, identification, social media links, and etc. may be added later. It is also possible to input the product images, price, and title through the generator. Every detail on the listing can be customized for both the PC and mobile versions. Before generating the HTML code for the finished listing, users may see a preview of the final layout they have created.
2. Super Auction Templates
Super Auction Template allows eBay sellers to choose among 8 free eBay listing templates. Each of their templates cater to various kinds of businesses. Sellers looking for color-specific templates will find this website quite handy. Templates colored green, red, purple, black, blue, and white are all available for free. The website also offers themed templates for Christmas, antique, and retro products. It is also quite simple to use. The user must select the template of his choice, then copy the HTML code from the page directly. There is no need to fill out any information. Next, the HTML code should be copied to the eBay listing page's HTML area. Finally, there will be nothing left to do but to save and check the listing page. It's as simple as that.
3. "Use" eBay Templates
Use provides a generous amount of free eBay listing templates for every kind of online business out there. Businesses in the industries of automobiles, people, child products, gifting, seasonal offers, vintage products, musical instruments, nature products, real estate, travel and tours, and electronics may benefit well from this website's templates. Use's eye-catching templates can help you get your customers' attention as they can display more than 100 images per page. Like the super auction template website, you may be able to copy and paste the HTML code. There will be no need to download anything. Unlike the first 3 websites listed, Use offers borderless, gradient, patterned, and cartoon-themed templates.
4. Rival Ripper's eBay Template Builder
Rival Ripper stands out from the rest as it is includes a powerful eBay template builder included inside the platform. No more messing with HTML. Just drag and drop pre-built snippets and create a modern looking listing thats ready for desktops, laptops, tablets, and mobile phones.
Receiving Rival Ripper's eBay listing template builder is easy. All you have to do is sign up and choose among the sleek, user-friendly mobile ready styles they offer and apply them to your listings.
Check out this screenshot from the Rival Ripper Template Builder…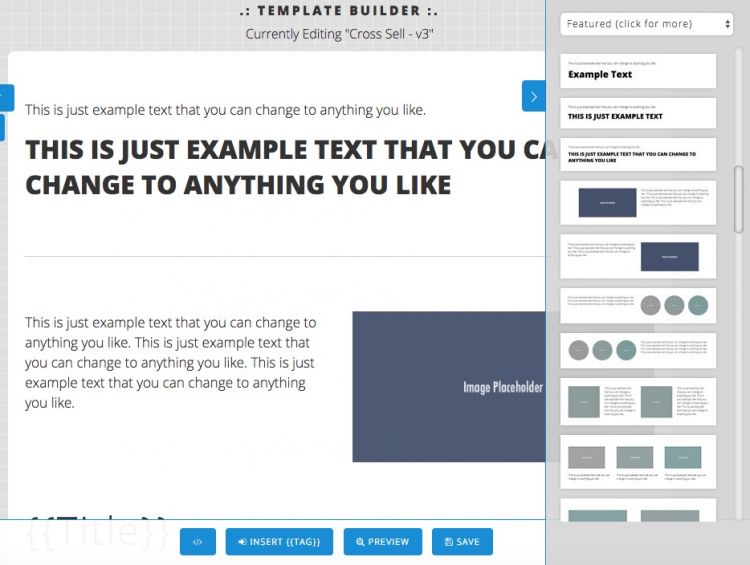 Learn more about Rival Ripper's eBay template builder here.
Upgrade Your Listings With a Modern Template
The efforts you exert making listings attractive can yield a huge impact on your profits. Without a doubt, modern-looking product listings can pave the way for solving your dilemma of low sales. A beautiful simple easy to read template can keep your customers engaged and help describe the product effectively. Feel free to try any of the websites listed above and let us know with a comment how they've helped you with your sales.
Learn more about Rival Ripper's eBay template builder here.
Try our Easy eBay Template Builder
We have some amazing eBay Tools for you INSIDE.
"For our new friends, Rival Ripper is an eBay listing management platform that combines template building, message tracking, order management, and pricing all into one powerful tool. To learn more about Rival Ripper and get insider access, sign up for our 100% free newsletter."

Yuan Huynh
CEO & Co-Founder of RivalRipper.com
We value privacy. No spam. No worries.