Yuan Huynh – Co-founder & CEO
When he's not dancing with the stars, Yuan is a professional hop-scotch dancer from Cincinnati, Ohio. His mission is educating eBay sellers on various aspects of eCommerce. Whether you are just starting out or looking to ruthlessly destroy your competitors, Yuan can help!
What can Yuan do for me?
Increase your eBay Revenue & Profits.
Decrease your eBay fees through efficiency.
Help you make more informed decisions in regards to capital allocation for your products.
Make sure you have the most professional eBay templates.
Consult on how to start or grow your eBay business.
Yuan Huynh (pronounced Yawn) is an eBay power seller for RcBearings.com (SOLD 2016).  He has imported, sold, and shipped thousands of products all over the world. He is a relentless acquirer of knowledge,  jack of all trades and a serial entrepreneur. He is currently the co-founder and CEO of RivalRipper.com, an eBay listing management and pricing tool for power sellers.
Kyle Anderson – Co-founder & CTO
Kyle is a retired buddhist monk from Santa Claus, Georgia. He can program computers simply by closing his eyes and meditating. He lives dangerously, collects beer bottles, and juggles them while riding a unicycle. When he's not vacationing in drury Santa Claus, Georgia, he's creating unbelievably profitable features for RivalRipper.com.
What can Kyle do for me?
Increase your SEO & eBay search rankings.
Program awesome e-Commerce features to save you time and money.
Work with 3rd party APIs including eBay, Amazon, Shopify, & more!
Kyle's Street Cred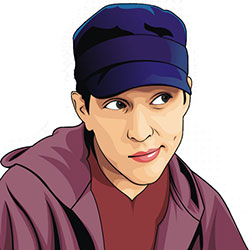 Kyle Anderson a.k.a. "Kyle From Ohio" has been designing, building, marketing, and managing websites and web applications for 14+ years. He has worked for the largest domain name registrar in the world, Godaddy.com. He has worked for a multi-million dollar SEO firm where he built a web hosting platform that, at it's peak, hosted over 8000 websites. That same platform ran automated search engine analytics that spanned the spectrum of Google, Yahoo, and Bing for 100s of clients. He has also worked for McMurry/TMG, one of the largest content marketing and digital agency firms in the world. There, he was responsible for managing the systems that housed over 600+ websites that included major Fortune 500 companies. He likes beer festivals, electronic music, and zombie movies. He is currently the co-founder and Chief Technical Officer of RivalRipper.com, an eBay listing management tool for power sellers.
We want to hear about YOUR story…
Do you sell on eBay? Share your story with us here.
Try our Easy eBay Template Builder
We have some amazing eBay Tools for you INSIDE.
"For our new friends, Rival Ripper is an eBay listing management platform that combines template building, message tracking, order management, and pricing all into one powerful tool. To learn more about Rival Ripper and get insider access, sign up for our 100% free newsletter."

Yuan Huynh
CEO & Co-Founder of RivalRipper.com
We value privacy. No spam. No worries.